I need to accept a few permissions to install the plugin. What are these for?
In order to install our plugin you'll need to accept a few permissions Google displays the moment you click 'Add to Chrome'. These are all standard terms Google displays for every browser tool based on its features and how these interact with the browser. They're all harmless to your computer and personal data but we wanted to give you a bit more detail for some peace of mind.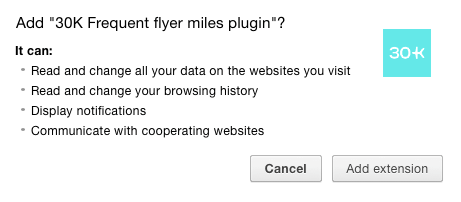 1) Read and change data on all websites 
Needed so that we can display miles on all supporting websites. The way our plugin works is that it reads the details of the flights you're seeing on screen, uses that information to calculate the number of miles you'll earn and then displays it to you next to the price. 

2) Read and change user browser history

Sometimes it could happen that after selecting your departure flight you change your mind and want to go back to still check the available options. Most people will click the browser's 'back' button to do this. In order for us to being able to compute the accurate number of miles after your click we need to access the browser's history.
3) Display notifications

After signing up to create an account with us you'll see a few notifications popping up that will show you how to fully leverage our tool, like how to add your frequent flyer programs for example.

4) Communicate with cooperating websites

Clicking 'Add Program' (adding your frequent flyer programs to your account) will take you to a separate webpage hosted by 30K. After you add/connect your programs you'll see the flight search you're running before is automatically updated taking into account these new pieces of information. For these updates to be possible we need our 'Add Program' page to communicate with the flight search website.
I need some step by step instructions on how to use this.
It's very simple. You need to have Google Chrome installed first - in case you don't please download it here. After that, just follow these simple steps:
1. Open the extension download page here (in case it doesn't open automatically on Google Chrome please copy the link and paste it on Chrome).
Click the 'Add to Chrome' dark blue button followed by 'Add Extension' to install it. A pop-up message will show up once the plugin has been installed.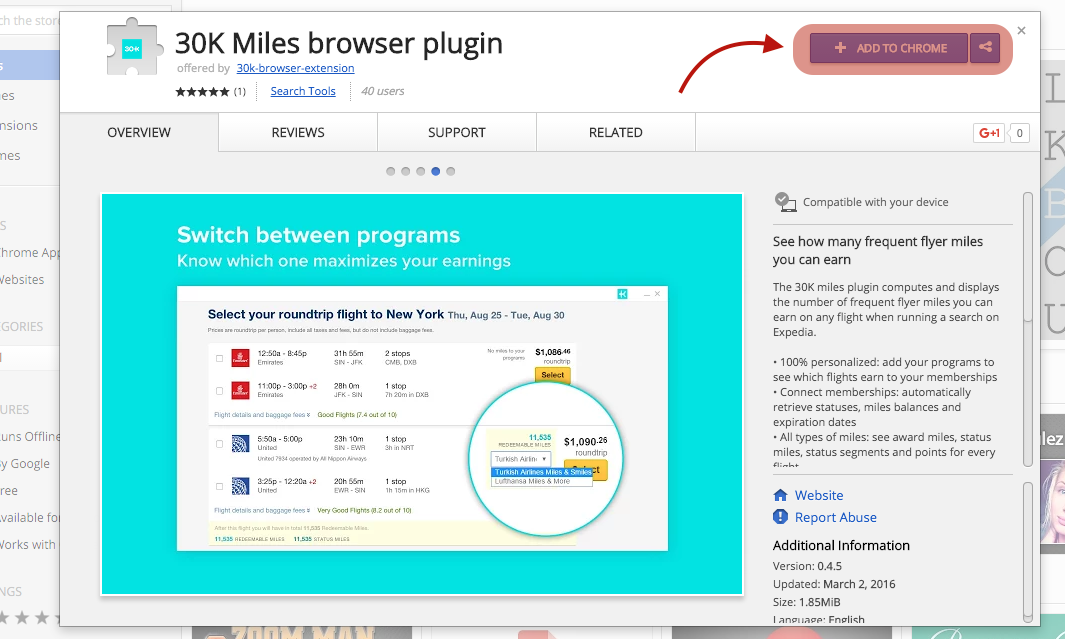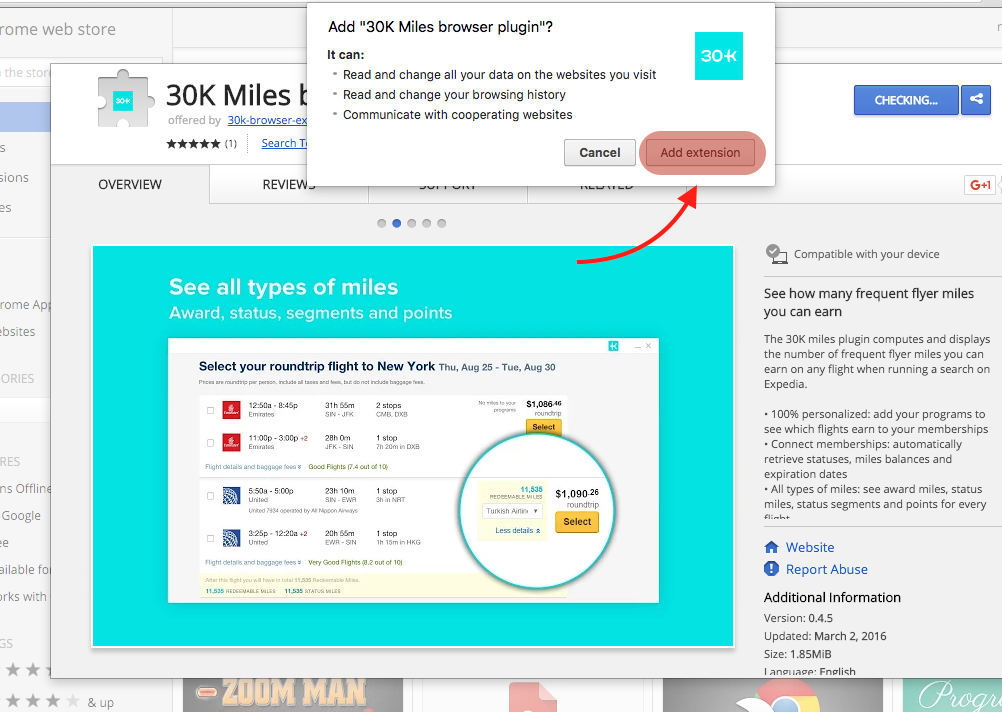 3. Open www.expedia.com
4. Run a flight search the way you always do. You'll see that the '30K' icon on your browser tab turns light blue. That means it's ready to use.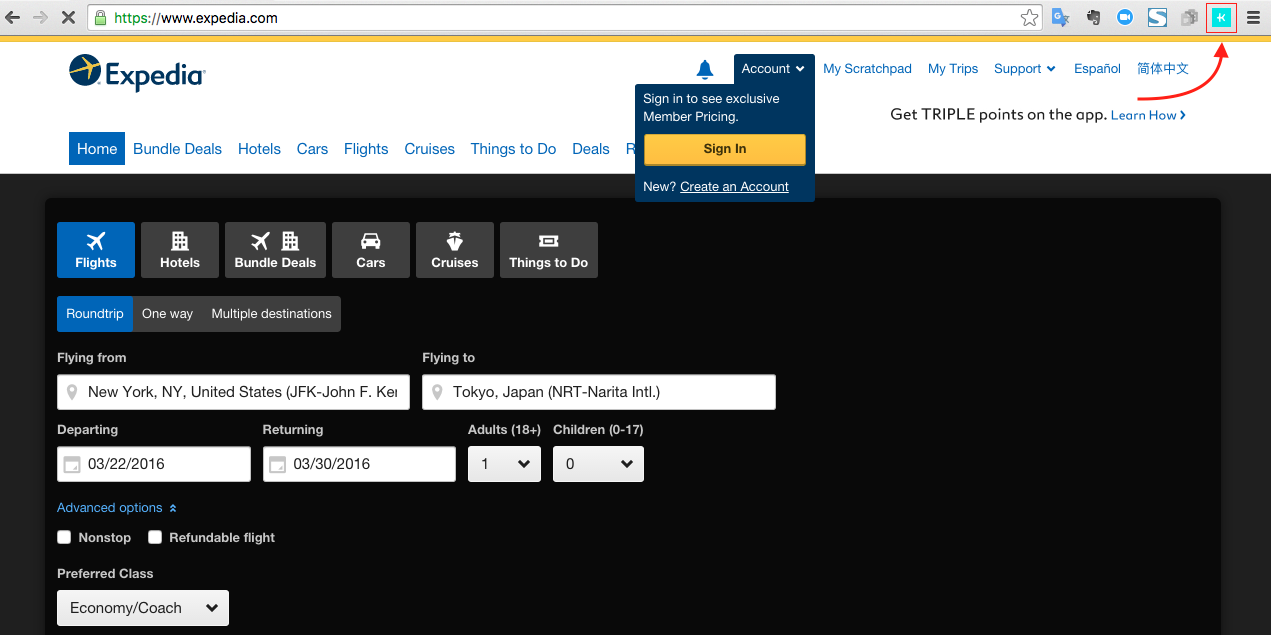 5. Notice that all flights now display miles results.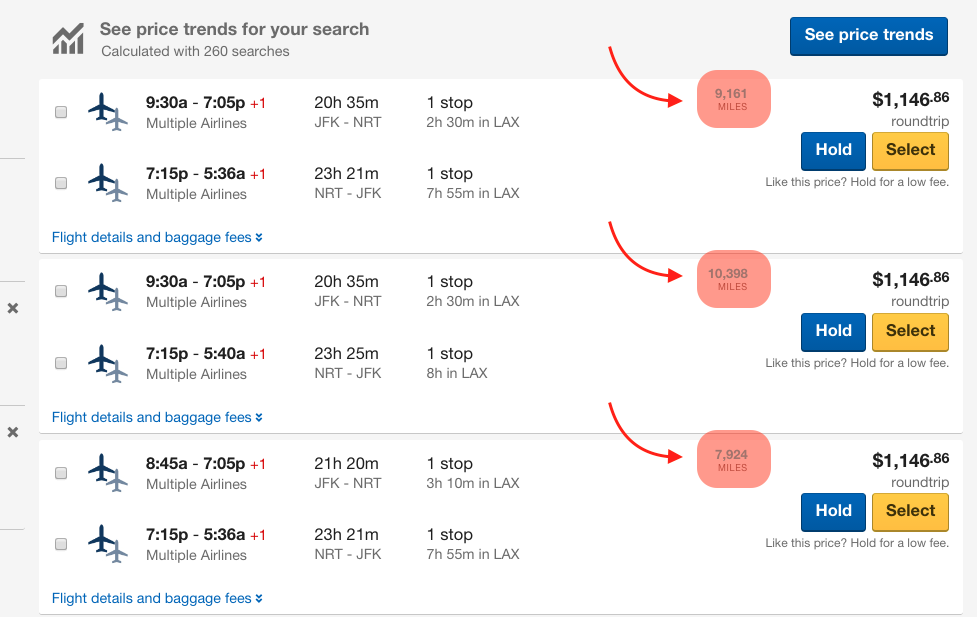 6. Further personalize your searches by adding your programs to your account. Just click on the 30K icon, sign up and follow the steps.

Which websites and browsers does your plugin support?
For the time being our plugin works when running a search on Expedia, Travelocity, Hotwire, Wotif, Orbitz or Cheaptickets using the Google Chrome browser. But we'll be launching it for other websites and browsers too in the near future so stay tuned.
Are you affiliated to any of the supported websites?
No, we are not. This is a product that has been developed by 30K.COM INC. in its entirety. We are an independent company not affiliated or in partnership with any of the websites.
How do I create an account?
Click on the 30K icon on your browser tab and the sign up button. You can create an account using your email or signing up using any of the other available options (e.g. facebook, google,…).

How can I add my frequent flyer programs?
Open the '30K' extension window on your browser tab, sign into your account and click 'Add Programs' at the bottom of the window.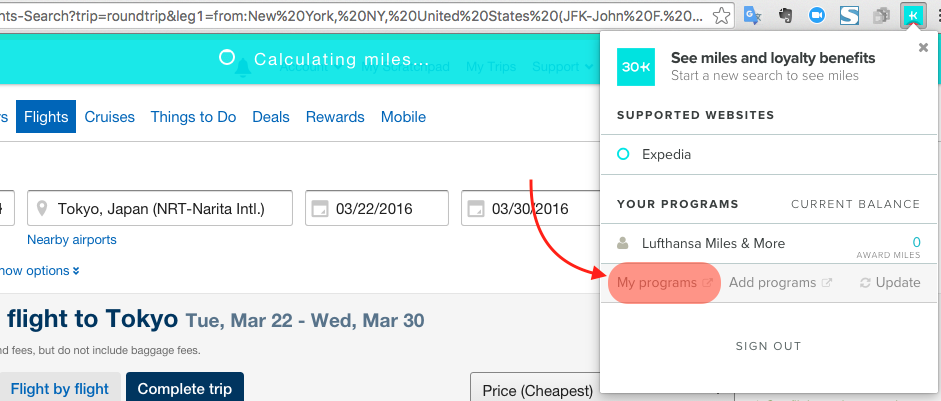 How many programs can I add?
You can add as many as you wish, as long as we already support them. For a full list please check the FAQ named 'Which Frequent flyer programs does your product include?'
I couldn't find my program(s).
In case you can't find your program as part of the 'Select Programs' menu, try typing it into the text box under the 'Can't find it above?' section.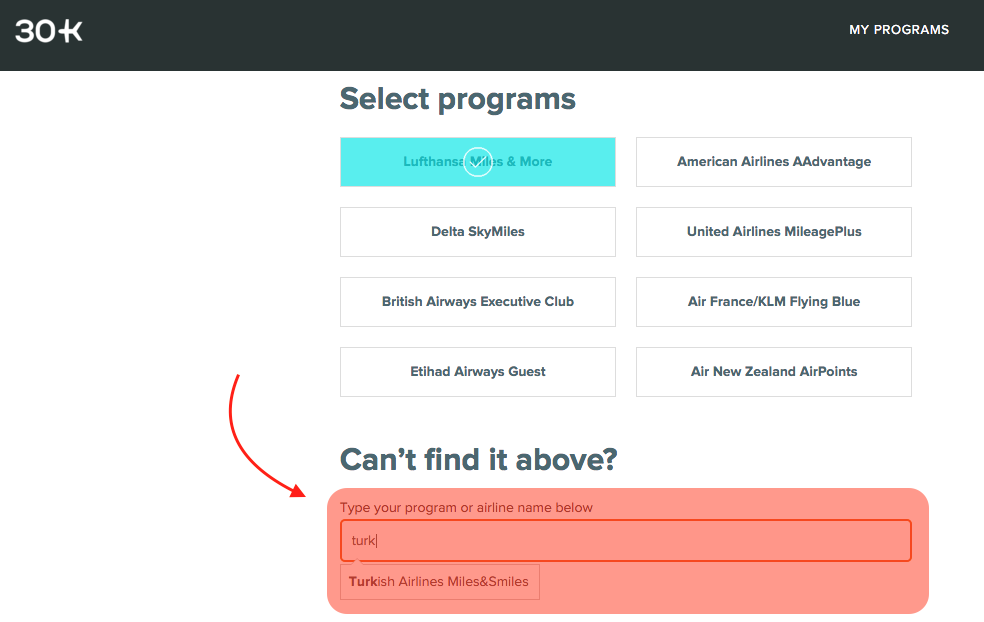 Still can't find your program? We currently support close to 100 airlines but are adding more every month. Please drop us a message here with the ones you'd like us to add next!
How can I connect my frequent flyer accounts on 30K?
Under the 'My programs' section you will find a 'connect account' button for every program you've previously added. This will take you to a new panel where you'll be able to either connect your accounts automatically (recommended) or manually.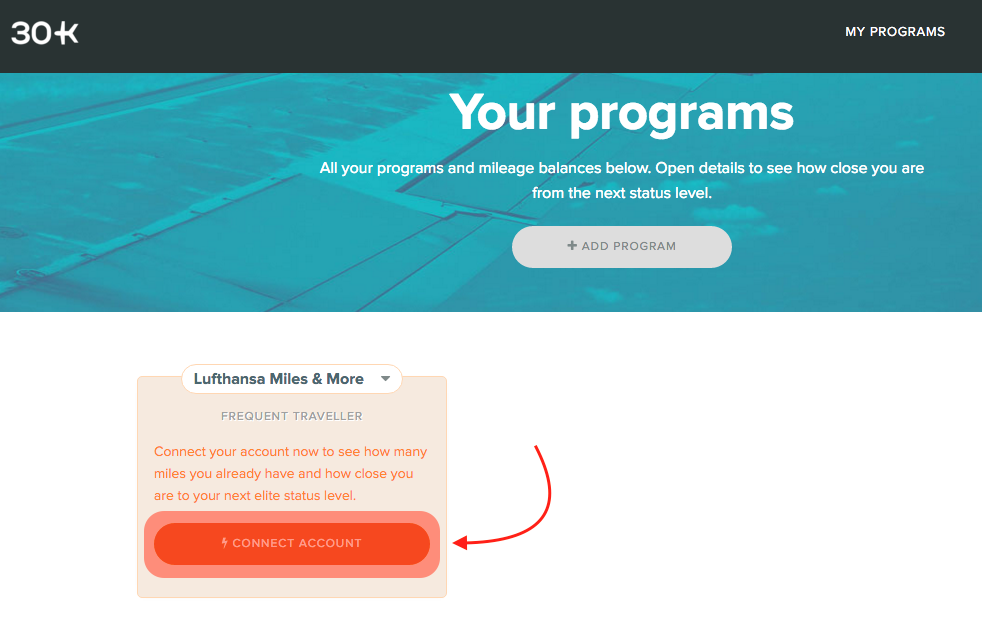 Auto-connect option: key in your card number or user name as well as the password for that account. In case you can't remember your account credentials, we suggest you visit the program's website and try logging into the account in order to validate those. Failing that, you can reset your password and you'll receive a new one from the program. Important to mention all this process is 100% secure and we'll never have access to your password or account.
Manual connect option: In order to connect your account using this option you'll need to input your balances manually (the auto-connect option allows us to retrieve those automatically without any manual input from your side). We don't recommend this option as much as the auto-connect one as besides requiring more time for you it won't produce the best results unless you know your accurate miles balances (to access those you can log in to your program on the program's website and check your balances. In case you don't remember your account credentials you can try and reset your password first).
I don't know what's my status with the program. How can I find it?
In case you don't know which status you hold with a specific program, there's a couple of easy ways to find out. You can either check your membership card or go to the program's website and log into your frequent flyer program account (in case you can't access it, we suggest you reset your password first and try again with the new password).
I'm not able to automatically connect some of my programs. Am I doing something wrong?
Most likely you're doing everything right but unfortunately there are still a few programs we can't connect you to. Currently, the auto-connect option is not working for Delta Airlines Skymiles, United Airlines MileagePlus, American Airlines AAdvantage, Qantas Frequent Flyer.
How do you retrieve my program's balances? Is it safe?
One of the features our tool allows is for you to automatically connect all your frequent flyer memberships so you can conveniently track everything from one place and know how close you are from your next status level. For that to be possible you will need to sign in using your membership card number/user name and password. This will log you into your frequent flyer program account so we can retrieve the necessary information. Rest assured - this process is 100% secure and we'll never have access to your password or account credentials.
I forgot my frequent flyer account's password? How can I get a new one?
That's an easy one. Just visit your frequent flyer program's website and click the 'reset password' link. They'll email you a new one that you can then use to connect your account(s) with us.
I forgot my 30K password? Can I get a new one?
Sure you can! Just enter the 'log in' section that can be found at the top and click the 'Forgot password' link. We'll send you an email for you to create a new one.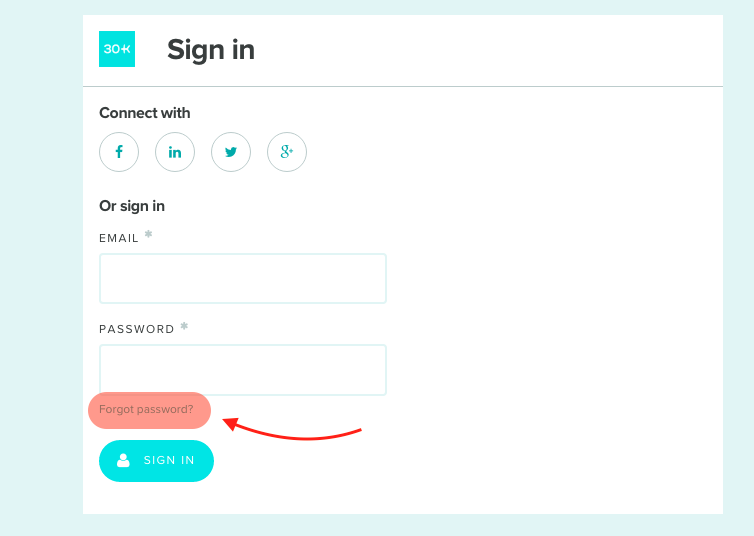 I only see Redeemable/Award miles being displayed. Do you display all types?
By default you'll see Redeemable/Award miles being displayed. But if you hover the mouse over the miles and click the 'more details' link you will see an additional panel showing up under the flight result, which includes the earnings of different types of miles.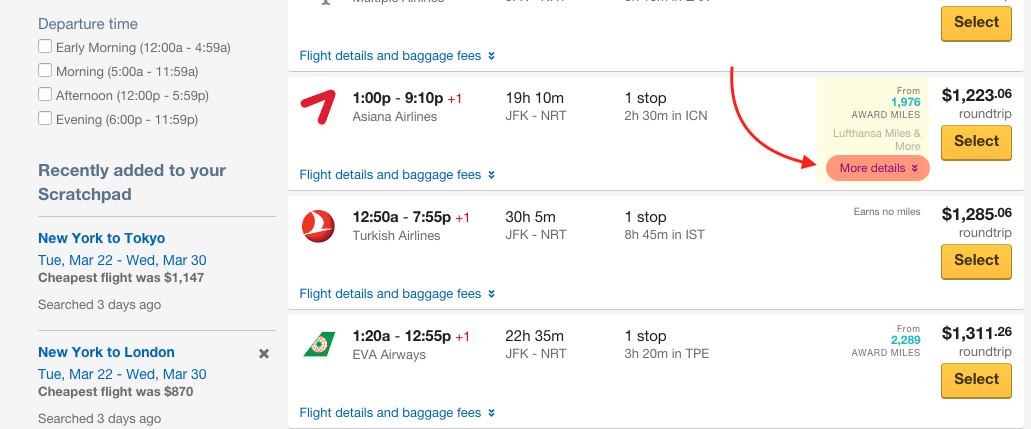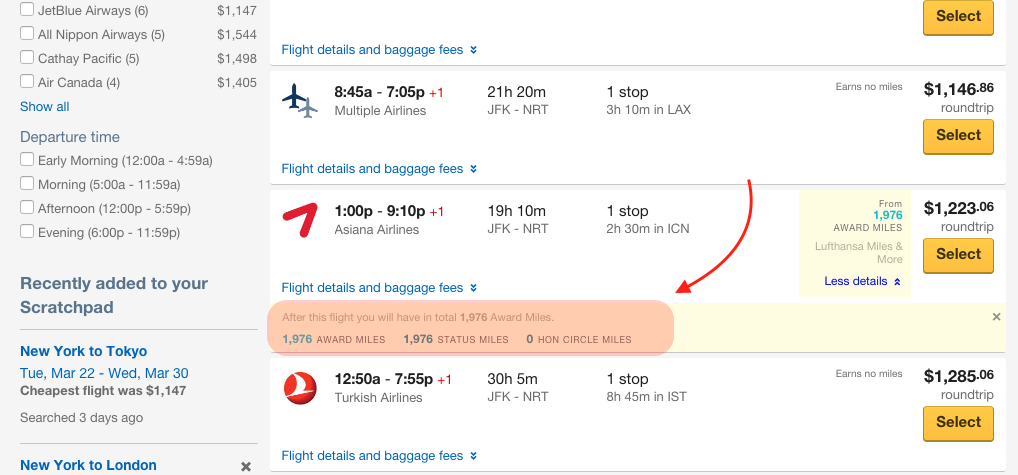 I don't understand the difference between the different types of miles.
Let's start with Redeemable miles - also known as Award Miles or Reward Miles. These are miles that function as currency in the sense that the traveler accumulates RDM in order to redeem them for goods and services. The most common redemption is for free flights or upgrades to a higher travel class when flying, but RDM can also be redeemed for other products, such as shopping, dining, hotels, rental cars and more, depending on your frequent flyer program. RDM are what are being earned from other partners.
RDM are earned from flying and the amount is typically a factor of the flown distance expressed in nautical miles. The factor is set by the program and depends on restrictions of a fare. A common rule is that the cheaper a fare is, the more restrictions apply. If the program grants varying factors for the accruals of miles, the cheaper fares will also grant a lower factor. A Fare Code is a single letter that indicates the specific restrictions of the fare paid.
Here's an example of mileage earnings:
Fare codes and factor of distance:
K, L, T, G 50%
M, H, B, Y 100%
If we apply the above rule to an example of a flight across 1,000 miles, the passenger that purchased a K-fare will earn 500 miles, whereas the passenger that bought a B-fare earns the full 1,000 miles.
There are also rules for whether the miles earned apply to the airline that is marketing the flight (Marketing Carrier - the airline whose flight number it is) or the airline that is actually operating the flight (Operating Carrier - the airline that's flying the aircraft).
How about Elite Qualifying Miles?
EQM (or Status Miles) can only be earned from flying. They count for a traveler's status with the airline and the recognition he gets for his loyalty. These miles are not redeemable but the user instead receives various benefits when he or she is travelling. The most common ones are: Priority check-in, Priority boarding, Airport lounge access, Baggage allowance, Complimentary travel class upgrades, amongst others.
There are several status levels that grant different types of benefits. After earning a sufficient amount of status miles, the traveler earns a higher status tier or level. EQM come in a variety of forms but the most typical allows for a factor to be applied to the actual flown distance (in nautical miles). As an example, the various status tiers may look like this:
Basic member 0 miles
Silver 25,000 miles
Gold 50,000 miles
Platinum 100,000 miles
Once a threshold is reached, the traveler gains the new status level and the benefits that are associated with it. For instance, if a traveler flies a B-fare that earns him 100% EQM, and takes a trip that spans 10,000 miles three times in a year, he has earned 30,000 EQM and has passed the Silver threshold.
Status levels oftentimes also earn a traveler an RDM bonus. For instance, a "Premier Silver" status member with United Airlines' MileagePlus program earns a 25% RDM bonus for qualifying booking.
(Note that the earning factors for RDM and EQM may differ, for instance, a K-fare may earn 50% RDM but 100% EQM, or vice versa, etc.)
Some frequent flyer programs have systems based on other criteria. Examples include a fixed amount of "points" or similar for each flight, and a traveler needs to reach a specific threshold of points in order to earn tier status.
A traveler will hold a status level with an airline for a limited amount of time. This varies across airlines but the most common limit is until the end of the following calendar year. Thereafter a traveler needs to requalify for the status by again fulfilling the requirements for status. A brief example is a flyer that earns 50,000 EQM in July, Year 0. He receives Gold status instantly and enjoys it throughout Year 0, but also throughout Year 1. During Year 1, however, he is required to earn at least 50,000 EQM again if he wants to keep the Gold status in Year 2. The same applies to the traveler that earned 50,000 EQM already in January, Year 0, or the traveler that earned 50,000 EQM in December, Year 0. The requirement to requalify for status for Year 2, is that at the beginning of each new year, the EQM is reset to 0 and the traveler needs to start from scratch again. In other words, the perks are time specific and loyalty needs to be continuous.
And Elite Qualifying Segments?
Besides EQM, a traveler can also earn status based on the number of segments he flies within the earning time period. A segment is considered a takeoff and landing pair. An example would be a flight that goes directly from New York to Los Angeles without stopping. Given that there is only one takeoff and one landing, that flight equals 1 segment. If that itinerary instead includes a layover in Denver before heading onwards in Los Angeles, it has two takeoffs and landings, equaling 2 segments.
EQS are relevant for the travelers that travel often on the same airline, but only short distances, for instance New York to Boston. These travelers are loyal to an airline but would find it difficult to earn tier status based on miles flown so the airline rewards them by giving status for the number of flights taken rather than the distance flown (EQM).
Which Frequent flyer programs does your product include?
Here's the list of frequent flyer programs we currently include. We're adding more every month.
Aerolineas Plus
Aegean Airlines Miles&Bonus
Aer Lingus Gold Circle
Aeroflot Bonus
Aeromexico Club Premier
Air Arabia Airewards
Air Berlin topbonus
Air Canada Altitude/Aeroplan
Air China Phoenix Miles
Air France/KLM Flying Blue
Air India Flying Returns
Air New Zealand AirPoints
AirAsia BIG Loyalty Programme
Alaska Airlines Mileage Plan
Alitalia MilleMiglia
American Airlines AAdvantage
ANA Mileage Club
Asiana Club
Avianca LifeMiles
Belavia Belarusian Airlines Belavia Leader
British Airways Executive Club
Cathay Pacific AsiaMiles
China Airlines Dynasty Flyer
China Eastern Eastern Miles
China Southern Sky Pearl Club
Copa Airlines ConnectMiles
Czech Airlines OK Plus
Delta SkyMiles
EgyptAir Plus
El Al Matmid
Emirates Skywards
Ethiopian Airlines ShebaMiles
Etihad Airways Guest
EVA Air Inifinity MileageLands
Finnair Plus
Garuda Frequent Flyer
GOL Smiles
Hainan Airlines Fortune Wings Club
Iberia Plus
JAL Mileage Bank
Jet Airways JetPrivilege
JetBlue TrueBlue
Korean Air Skypass
Kuwait Airways Oasis Club
LAN LANPass
Lufthansa Miles & More
Malaysia Airlines Enrich
Middle East Airlines Cedar Miles
Philippine Airlines Mabuhay Miles
Qantas Frequent Flyer
Qatar Airways Privilege Club
S7 Priority Club
SAS EuroBonus
Saudi Arabian Airlines Alfursan
Singapore Airlines KrisFlyer
South African Airways Voyager
SriLankan Airlines FlySmiLes
TAM Fidelidade
TAP Victoria
Thai Airways Royal Orchid Plus
Turkish Airlines Miles&Smiles
United Airlines MileagePlus
Vietnam Airlines Golden Lotus Plus
Virgin America Elevate
Virgin Atlantic Flying Club
Virgin Australia Velocity Frequent Flyer
Westjet Rewards
Xiamen Air Egret Club
Does your product also include revenue-based programs?
We absolutely do. As you may be aware some airlines are moving from distance to revenue-based frequent flyer mileage earning. This basically means that they will now measure/reward loyalty based on the value of the tickets purchased rather than the distance flown.
How can I uninstall the extension?
On Google Chrome open the tab 'Window' and then click 'Extensions'.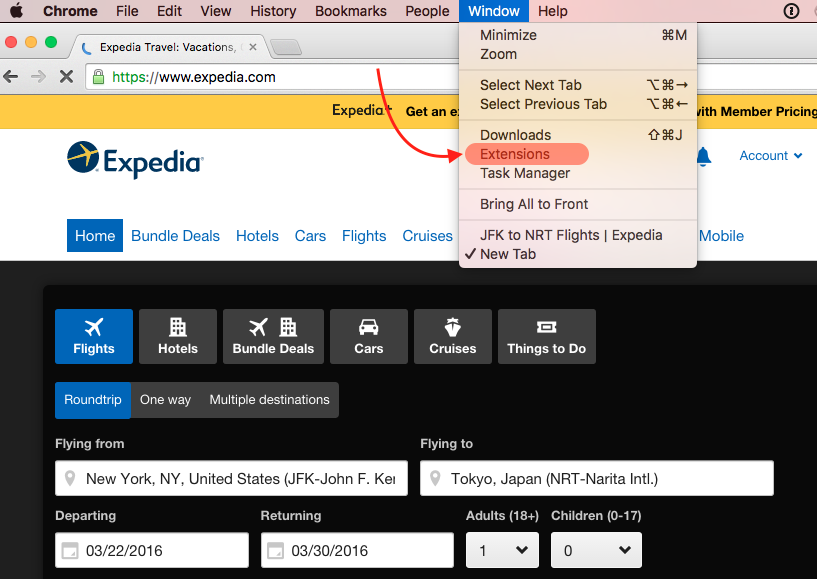 Find 30K's extension on the list and click the trash bin icon on the right hand side. If there's something you didn't like about our products, we would love to hear your suggestions. Please get in touch here.

How can I delete my account?
First you need to sign into your account. After that open the plugin window and click 'My programs'. At the top of the section select 'Settings' followed by 'Delete Account'.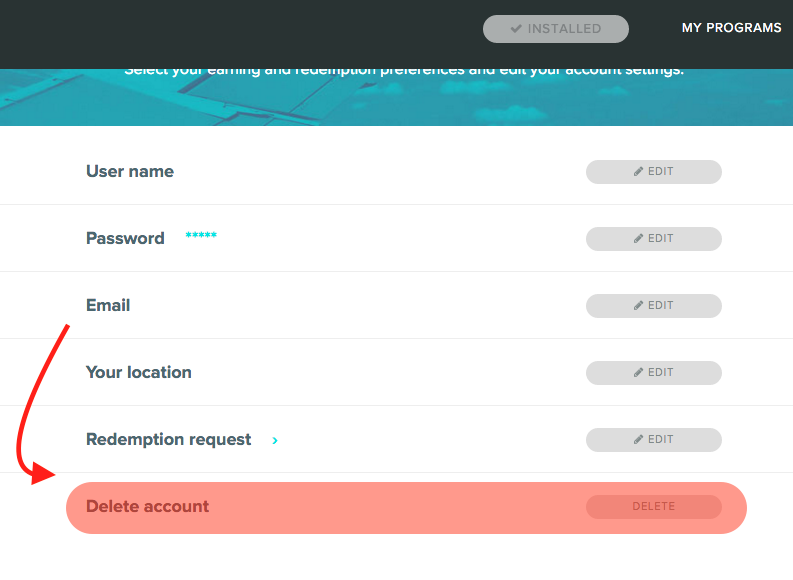 Can I use this extension for multicity itineraries as well?
For the time being this extension works only for one-way and round-trip itineraries. We plan to add support for multi-city itineraries soon.
I have some comments and suggestions, how can I contact you?
We'd love to hear from you, please drop us a message here. We always reply.
How much does it cost to use your plugin?
As mentioned our plugin comes with a 30-day trial period - you just add it to your browser and for 30 days you can use it as much as you want (all features included, no need for any credit card details). After that you'll need to purchase the yearly subscription that costs $20 /year. All this will be done through the Google Chrome store using a credit card the same way you always shop online.
Can I try the plugin before I decide if I want to buy it or not?
Absolutely! We offer you a 30-day trial period so you can try the hell out of our plugin. After that you'll be prompted to visit the Chrome Store to purchase a yearly license.
Can I cancel my paid subscription?
Right after you've paid Google allows you a few minutes to cancel it in case you change your mind. Otherwise you will be charged for the yearly subscription. After that you can cancel it anytime but please not that you will still be able to use the tool until the end of the 12 months you've paid for.
As for the license renewal, the default is that Google charges your card automatically 12 months later but you can change that under your Google Payments setting (http://wallet.google.com) if you wish.
As you launch new features, do I need to pay for those separately?
Absolutely not - any new features we might launch in the future will be made available to you at no additional cost.
Can your plugin help me book my upgrade to a higher cabin?
Unfortunately we can't do that. Our tool helps you identify which flights can be upgraded with miles, and whether you have enough miles to do so but booking is a different story - only the airline can do that. We suggest you give the airline in question a call, share the flight details with them and they'll be able to check regarding conditions and availability.
I'd like to know more about your company.
And we'd like to share more with you. For more on our company, the people and the vision you can check out our Angelist page here or our About us page here.
Which features will you be launching next?
We are working on a lot of new and cool stuff. Until the end of the year we will launch:
Status benefits: see which benefits you are entitled to with your current or upcoming status level (e.g. lounge access, priority check-in, extra luggage)
Awards: know how many miles you need in order to redeem for a free award flight and whether your current balance is enough to start redeeming.